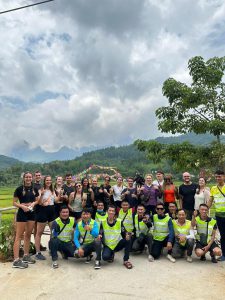 Location
---
Lung Cu is located in Dong Van District, 200km from the center of Ha Giang Borough with a natural area of 3,460 ha. Visitors are attracted by magnificent mountains hiding in the cloud as well as the Flag Tower on top of Dragon Mountain (Long Son), terraces of the local resident and Lo Lo Lake. Also, the winter in this place is very cold so that visiting Lung Cu in that time can give tourists a chance to witness real white snow covering the forests and mountains here.
Of Culture and Nature
---
Lung Cu population consists of many ethnic groups with different and diverse features in culture, beliefs and practices. People here mostly grow rice on the unique terraces and milpas, and even Mong and Lo Lo communities here still practice the traditional textile methods. Traditional features in cultures of these ethnic groups are very diverse and interesting. Many travelers are attracted here to explore these unique aspects of the community.
Many cultural features of ethnic groups here were influenced by the Vietnamese culture, like the silver drum of the Lo Lo which originated from the silver drum of Dong Son. Moreover, Lung Cu is famous by many special foods and drink such as corn alcohol, honey alcohol and "Thang Co" (a kind of soup that Is cooked with almost every part of an animal such as pork, beef, horse…)